Posted by FunkyPlaid | Filed under Meta
This is the official announcement of a new project currently in the works to my friends and acquaintances of discriminating musical tastes. Your interest and support is encouraged and greatly appreciated in the weeks and months ahead as this takes shape.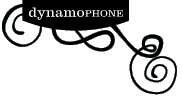 After some measure of deliberation and brainstorming with
rudysyntax
and
inbody
, we're on the way to launching a small record company located here in San Francisco.
Dynamophone Records
will offer opportunities for progressive electronic artists to exhibit their music, with publishing, distribution, and marketing assistance from a trio of well-balanced, good-natured young men.
Dynamophone is particularly pleased to offer a scintillating agenda of captivating music, delicately tailored for the productive listener, specially formulated to develop a productive atmosphere. Our artists say much with few words and conjure fully-navigable landscapes of chimerical sonance. Dynamophone specializes in full-bodied, vine-ripened melody, ranging from the detailed and eclectic to the mellow and highly palatable. Goes nice with cheese plates and good friends.
————————————————-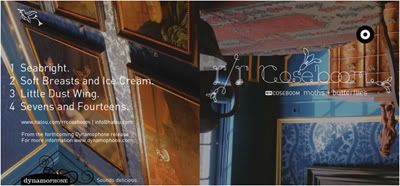 The first Dynamophone-related event is taking place tomorrow night in Seattle: R/R Coseboom, the songwriters from Halou, will be playing a live set of their material soon to be released on the label, together with stripped-down versions of recent and new Halou songs. Shawn and I-Li from Bloodwire will also be part of the evening's performance.
Tuesday, Oct. 11th @ 9pm $10
The Baltic Room
1207 Pine Street
Seattle, WA
Additionally, the LIMITED R/R Coseboom
"Moths & Butterflies" 3" CD EP will be
available for sale at the show.
————————————————-
We are currently in negotiations with artists you're sure to have heard of, as well as being keenly interested in accepting demos for future releases. Do look for more information on our multi-national Release Parties in the spring of 2006, as well as links to our LJ community and Live365 station.
Fans of lush and provocative electronic music, rejoice! Dynamophone is here! And it sounds delicious.
16 Responses to "Sounds Delicious."
Leave a Reply