Posted by FunkyPlaid | Filed under Biking, Home/Hearth, Musing, Scotland, Social
Somehow I've survived the past seven weeks without Cygnoir, which was not easy, let me tell you what. If it can be helped, I would wish that this be the longest stretch of time apart that we'll ever see again. But as long as she gets on her plane and it actually lands, I'll be welcoming my wife to Edinburgh on Friday afternoon, and the cats shortly afterward, a little later that evening. For the record, that's about thirty-six hours shy of our one-year wedding anniversary. So I'm here at the new flat with one more night of alone-sleep, and I've realized that all of the writing that I was supposed to be doing during this time has entirely been in my head. This doesn't bode well for my doctoral thesis, does it? And now I will allay the fears of my supervisor, who will surely be spending his ample free time reading my personal writings instead of all the other professorial duties heaped upon him by the ivory tower: Steve, I'm a slow starter, but it's going to be a doozy.
At the risk of sounding overly-romantic and weepy, I wish to report that the grass here is, indeed, greener. Quite honestly, I am as happy as I have ever been, and my life took a sharp and dramatic rise in quality the moment I landed again in Scotland. There should be no dejection from hearing this by any person or activity close to me in California; the people I know "back home" are the best people I could know, and I want to steal each one away and give them a tiny little rigg of land out here because they would fall in love with the very dirt and never want to go home, even despite the sunnier climate. Le Chateau, the game store, my friends and family – that other life – was top-notch, and I should have been happy with every parcel of it. The truth is that I needed something else, which by no means wipes away any appreciation, lucky-star thanking, or pristine moment of joy that I have felt – and still feel – about California along the way. But I am happier now, and lighter, and calmer, and bursting with interest and wonder again.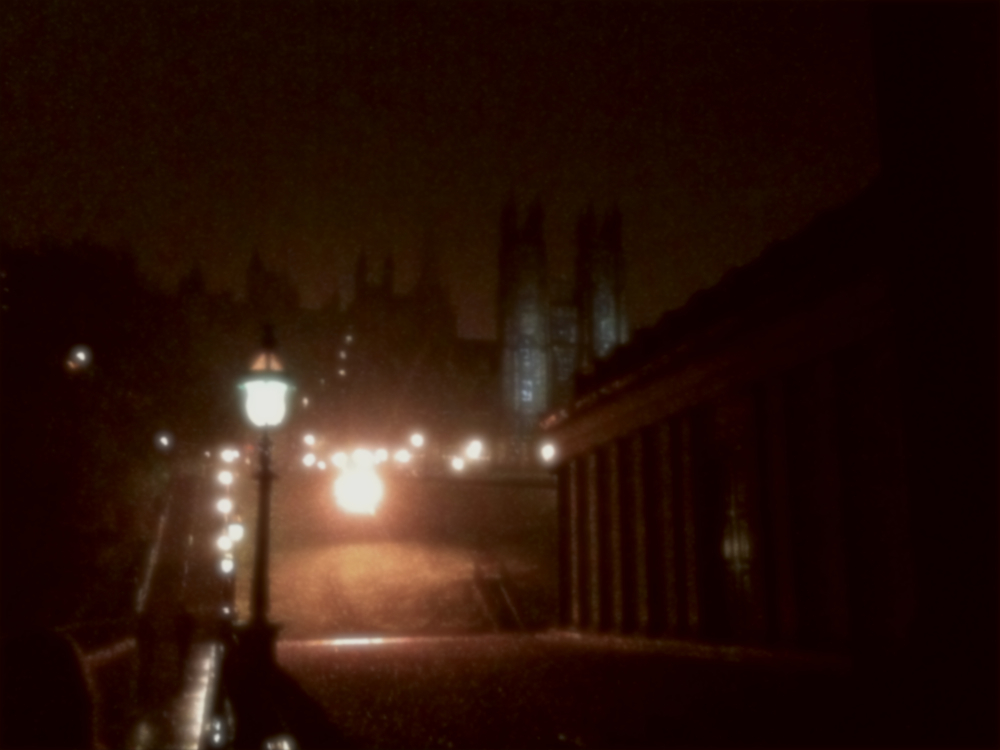 The first month here has mostly revolved around disembarkation duties, home-maintenance, and intermittent bursts of awesome beauty in between the jaw-clenching frustrations of an international relocation. I feel like I've gotten most of our Ps peed and our Qs queued, so as not to trouble Cygnoir with any of the big things when she arrives. She has had quite enough to deal with as it is, staying in that huge, empty house alone. The only things that remain a stitch in the side are our car and phones, both of which are now thankfully on their way to being checks on the virtual list of things to do. The move-worthy contents of our home, having bobbed its way over the Atlantic on a great container ship, should even now be in the country, and we will soon have eighty-three boxes delivered to us any day now. And then the real setup and exhale begin.
In designing our home on the fly, I've started to acquire a number of things that were not sea-transferable or that we did not already own. Perhaps the most treasured purchase thus far is a gorgeous Cannondale Trail SL 3, my first real mountain bike. As with any new enterprise, I've already collected the requisite amount of "excitement supplies" that go along with it, even if many of the tools are for things I don't even own yet. It's about being prepared, after all. In equal measure, I've enjoyed both breaking it in and being broken in by it, straining muscles I'd forgotten that I'd had or have not yet seen. This is in part due to Seth, Lara, and the Pentland Hills just south of Edinburgh. I had done over twenty miles a few times in as many weeks, but since it has gotten wetter in recent days, my focus has been more on flat-prepping and loose-end-tying.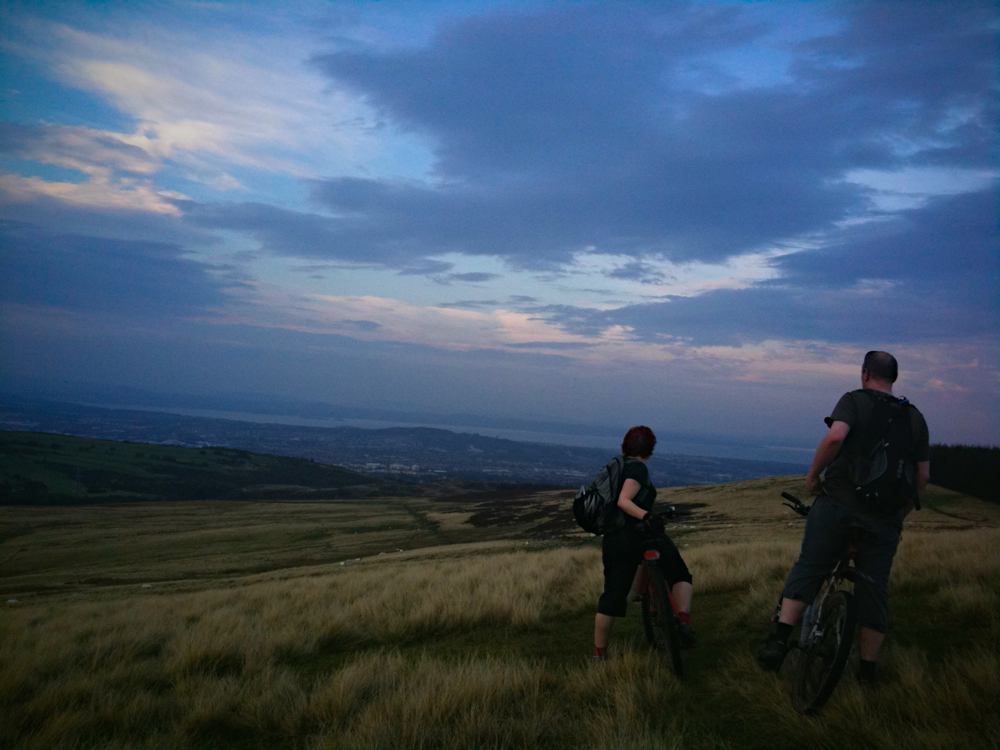 As the Juke doesn't arrive until sometime around next week, I've been nipping around in a rental to fulfill my obligations northward, in St Andrews and beyond. Since most of the libraries and archives are right here in town, I figure I'll only be spending one or two days on campus per week, at maximum. My only regret with this is that I maybe won't be around as much as I'd like in order to enjoy the company of my academic peers in ISHR, though I will certainly strive to make my presence known and my interference minimal, when possible. By the end of the month, I hope to have an initial list of sources from which to draw the first bits of data for my project. This will involve poring over notes from my Master's research, which, like my brains, are still on the boat.
This past weekend, I was invited up to Forter Castle, ostensibly to raise a glass in celebration of my dear friend Hermiston's acquisition of a doctorate and his 30th birthday, to boot. After six hours in the car (four of which were stopped at the Forth Bridge roadworks), I arrived to the stunning tower room as my lodging and the announcement that he and his long-time girlfriend, Azra, were getting married. That evening. In a tiny chapel under the castle. Surprise. It was a good thing I had packed nice clothes, and an extravagant blast was had by all. In fact, it was magical. I could not be happier, as there are hardly two people on this planet who are better together.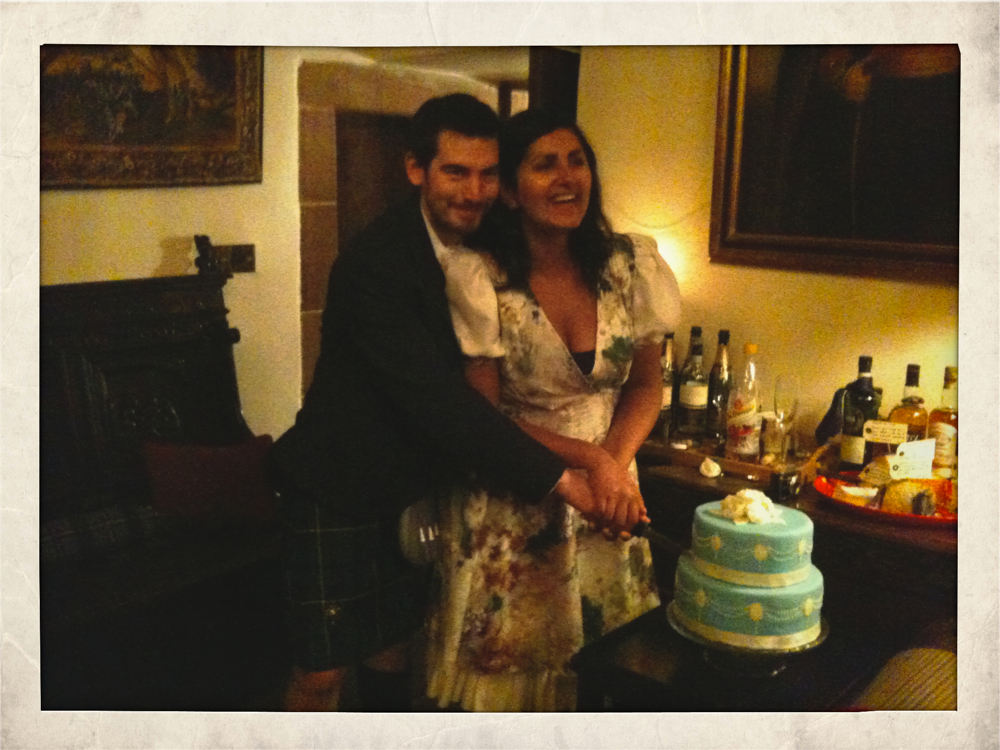 We woke up the next morning bleary-eyed but energized. Someone had the bright idea to undertake a monstrous hill walk, and all of us had the taste of stale whisky in our mouths the entire way up. We put out that fire with some fresh whisky at the top, a kind of toast to the clouds in thanks for us not keeling over with the exertion of pulling ourselves up by fern and heather. Take a look at that picture below and see how small the castle is – that tiny tower house on the right side of the rock cairn. That's Forter, and we're very high up. Coming down took half as long, and it was twice as easy.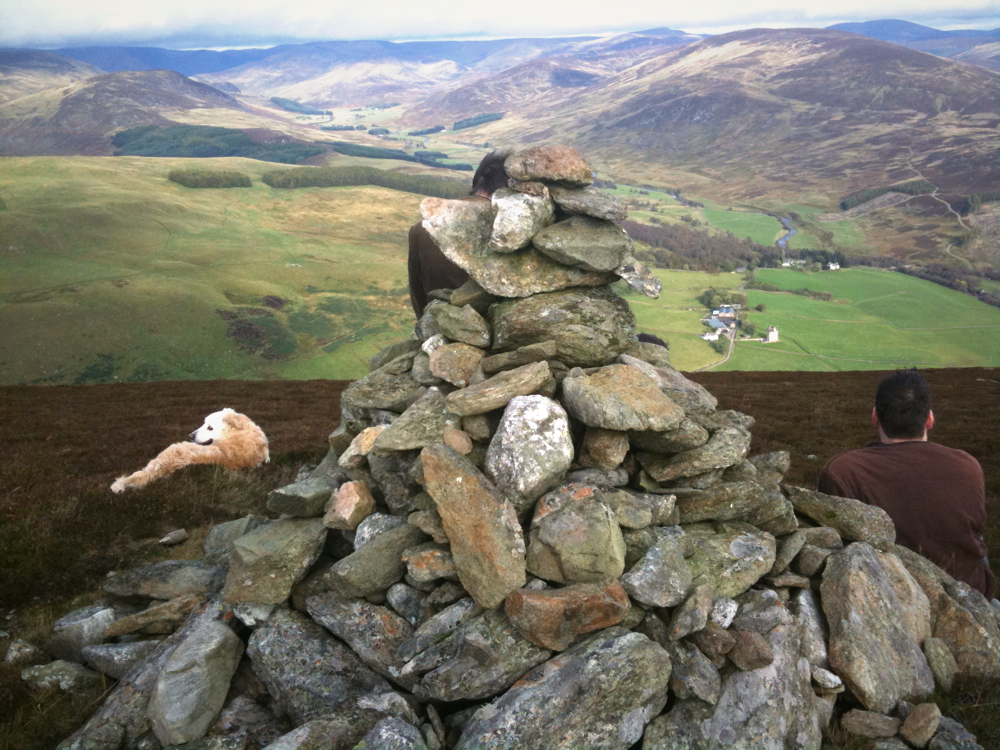 Sunset bike rides above an ancient city? Rain and sun at the very same time? Greens so vibrant that your eyes hurt when staring too long? Surprise weddings in 16th-century castles? In Scotland, these things happen all the time. Come visit, and we'll show you around.
Tags: Biking, cygnoir, Edinburgh, friends, Home/Hearth, Plans, Scotland, St Andrews, thanks, University
2 Responses to "Almost Here/Almost There"
Cecil Seaside Says:
October 30th, 2011 at 10:08 pm

Forgive me, it's taken me a while to arrive at a nice quiet moment to catch up with your words here. Well worth the wait—for me at least. Your second paragraph resonated deeply with me. I knew there was greener grass—I KNEW it! I know I am in the midst of that state where I know I need something else too, in spite of the fact that what I have is great. I am inspired by your words to keep my eye on my own ligher, calmer sources of interest and wonder. Keep the updates coming, my friend!

Darren S. Layne Says:
October 31st, 2011 at 3:50 am

Thanks so much for reading, CS. I have every faith that the direction in which you're currently going will take you to the greener grass. I'm not a real believer in destiny, per se, but you're destined for it, through your hard work and tireless focus on growth. I can't wait to watch as it happens!
Leave a Reply