Posted by FunkyPlaid | Filed under Academia, Business, Frivolity
I've got many, many lists in my life. Not as many as my wife, but who does? I find that lists help me work in a very linear and productive manner, and we all know the best part is ticking them off once an action or a task is completed. Like many others, I have lists for work, lists for university, and lists for personal projects. I also have lists for shopping trips and others for the items on those trips. There are also lists for things I need to do on a daily basis, and lists for things I've forgotten to make lists for.  Underneath all of these lists, there are lists for goals both long-term and short-, and there are lists for things I want to do before I pass on from this life. Not all of them are written down, and I seem to be blessed with the ability to keep most things in my head until I expunge them with obsessive action.
I might use lists differently than other folks, as I tend to compile them and recompile them in a very meta-taxonomical manner. So, then, even my lists have lists. Not unlike, I might add, the part of my research that transcribes lists from the 1930s that were compiled from lists in the 1890s, originally taken from manuscript lists in the mid-18th century. Thank the gods I've married a librarian.
The one problem with the unholy pairing of list-making and just a little bit of OCD is that until those little bastards are checked off, each one irritates me like a piece of sand in my mollusk, and sometimes I can take that action-haunting out on others around me. But really, all I want is for those folks to regard lists like I do, and attend to them in the same way. That is surely an impossibility, and I need to get over it. We all deal with our lists in our own ways. Or sometimes not at all.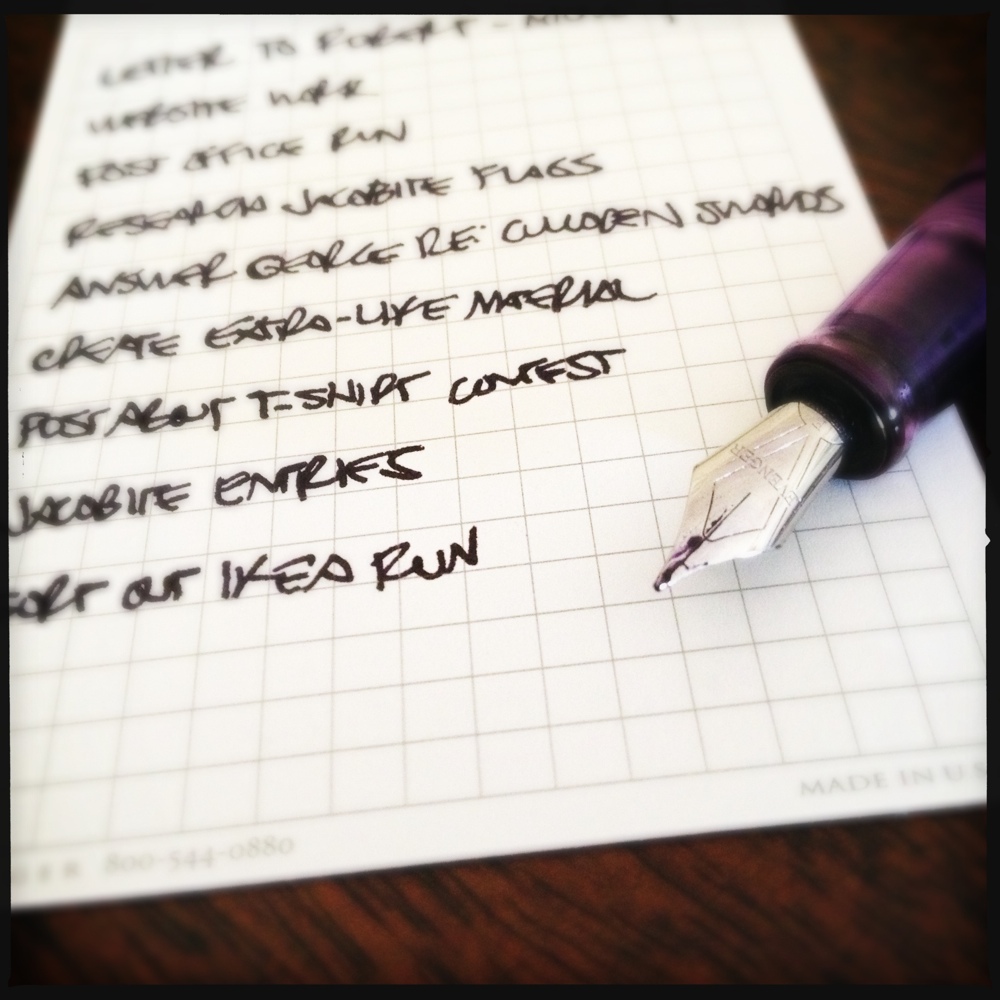 Here is my list for today, compiled from many others that span a number of different responsibilities which I am currently undertaking. It's not an odd list, but there are some odd entries, I suppose, if taken out of context. My favorite is "Answer George Bush re: Culloden Swords". Surely we all have something like that on our respective lists. Please tell me that's true?
Anything of note on your list for today?
Tags: lists, obsessive, OCD, organization, productivity, taxonomy, to-do
4 Responses to "To Doing"
Leave a Reply