Posted by FunkyPlaid | Filed under Academia, History, Scotland

Captain James Campbell via General Humphrey Bland
Sunday, 24th August 1746
As Sheilings are only Sheds made in the hills to Herds, for herding Cattle in the Summer time, and not habitable in the Winter; consequently they are of no Importance; therefor it is required they may be destroyed and thrown down by the owners, so as they be no shelter to the Rebels; and that the owners may not plead Ignorance thereafter, and what ever houses have been burnt and destroyed are not to be rebuilt, without a Sign'd Order from the General or Commander in Chief.
Deeply buried within the extensive annals of the Montrose Muniments at the NRS are three bundles of extremely interesting letters and lists that provide a visceral, microcosmic snapshot of the last Jacobite rising in Scotland. After seeking permission directly from the standing Duke of Montrose, I've been taken with transcribing the contents for use within my thesis and also for a discreet article or two, if timing allows.
Much of what is contained within these bundles highlights the uncomfortable predicament in which the then 2nd Duke found himself: trying to maintain and defend the lives and homes of his contracted tenants – whether Jacobite or not – whilst upholding his duties and loyalties to the Georgian government of Britain, even despite its heavy-handed tactics of rebellion-purging. In addition to some extremely tense back-and-forth correspondence between Montrose's estate of Buchanan and the military authorities based in Fort Augustus, the files also contain lists of suspected rebels, declarations both for and against accused persons, and the recorded depredations of Montrose's lands carried out by the King's troops.
Tags: archives, document of the week, Edinburgh, History, Jacobites, Little Rebellions, Scotland, University
Posted by FunkyPlaid | Filed under Academia, History, Scotland
With a nod to my supervisor's posts of last year's interesting Documents of the Day (DotD) found along the way in archives and libraries, I've been tickled to do something similar in this forum, which has lain woefully underutilized since the commencement of my doctoral paper chase. The series had always been in the works to one day be hosted over at Spines of the Thistle, but that project has been set back by the apparent need to write a proper thesis, amongst other pressing things. Websites can come later, but until then, here's some intrigue in Auld Reekie in what will likely become the very first Document of the Week (DotW)  – as long as my commitment to the project is allowed the space.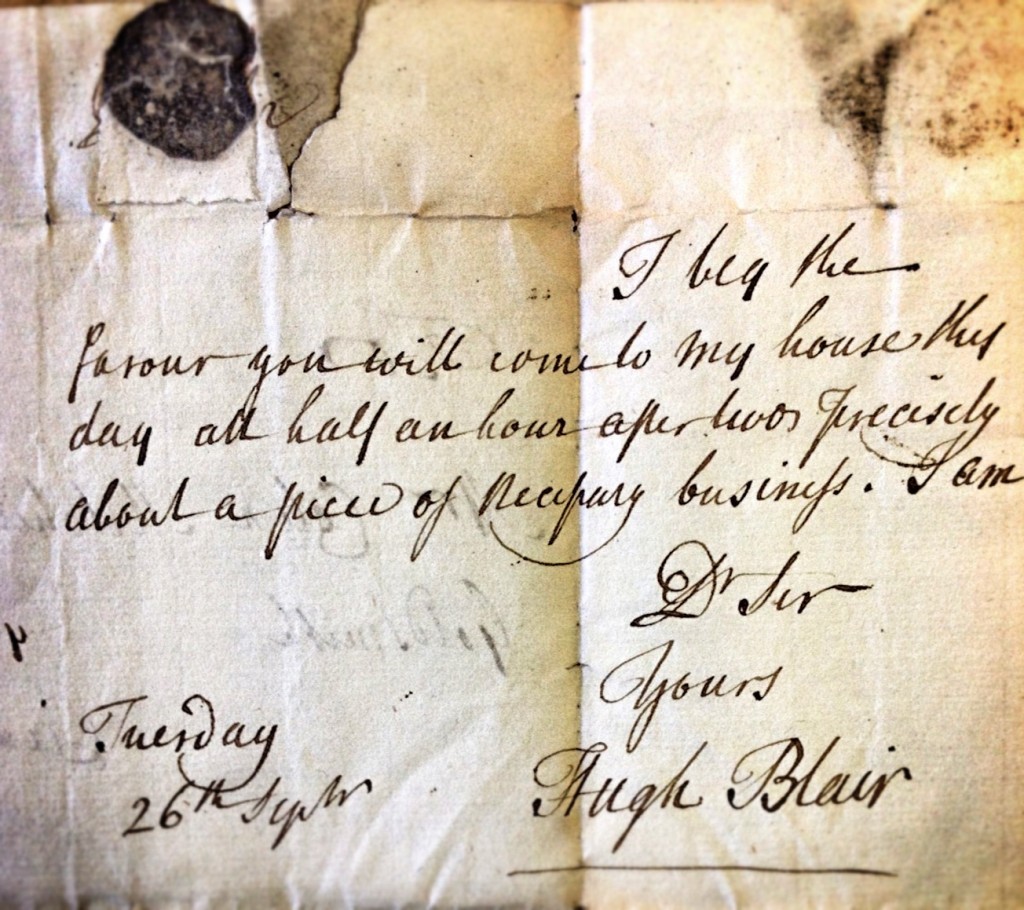 Hugh Blair to Colin Mitchell, Goldsmith in the Canongate, Edinburgh
Tuesday, 26th September 1745
                                               I beg the
favour you will come to my house this
day att half an hour after two precisely
about a piece of Necessary business. I am
                                                  Dr Sir
                                              Yours
                                                    Hugh Blair
One of the benefits of working with a prosopographical database for historical research is being able to find commonalities in large amounts of data hitherto disconnected and most certainly unnoticed. Perhaps the most intriguing so far in my own studies is the discovery that about one-half of the active goldsmiths, or "hammermen", in Edinburgh during the Jacobite Rising of 1745-6 gave evidence against the other half citing rebellious activities to the government authorities. That this strange web of blame occurs nowhere else and within no other occupation with such frequency is striking, and while there is no direct evidence yet uncovered that marks this as anything other than an odd coincidence, one gets the feeling that there might be something else to the story.
Tags: archives, document of the week, Edinburgh, History, Jacobites, Little Rebellions, Scotland, University