Welcome to funkyplaid.com, and thanks for peeking in. No need to point out that this is my digital journal, replete with both passing thoughts and focused essays, snapshots of my experiences, and discombobulations that perhaps shouldn't be archived in public. Thus, my platform from which to spew forth anecdotes, colors, musings, and rants that echo off the walls within all the corners of my life. Note that some material is not appropriate for all audiences, but all material is appropriate for some.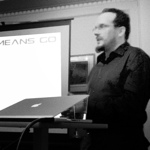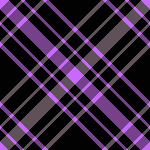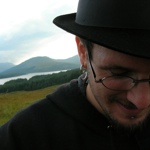 While it might seem silly to define a character with only words, they tend to have more longevity than these fleshy sacs that we reside within. Since I'm abnormally obsessed with our histories, our legacies, and our marks upon the world in this eyeblink of an existence, a little bit of pixelated permanence is my tonic, and I invite you to have a dram. Feel free to judge, to inflect, or to compare and contrast. Comment if you like, as I enjoy constructive discourse. But please: be nice. You're still accountable for your words and actions, even out here in this limitless electronic tundra.

Know-It-All
Name: Darren Scott Layne
Aliases: Funkyplaid, of course. I also have  come to appreciate D, That Damn'd Yank, D-Bot, and Hey, You!
Birthday: 30 April. Right down the middle of Taurus. Aries Moon, Sag rising. Some people who read Zodiac (I do not) have told me I'm actually Scorp rising.
Birthplace: Rochester, New York. Though I was raised just outside of Detroit, Michigan and have lived in California most of my life. Still a Midwesterner in temperament.
Residence: The Braes of Marchmont in Edinburgh, Scotland. I first moved to the San Francisco Bay Area when I was twelve, and remained there until 2011. 2003-4 were spent in Edinburgh for my first postgraduate stint. Now I am back where I belong to follow up on my academic goals…and perhaps beyond them.
Languages: I mostly speak American English. I've taken many years of French through my schooling but have not retained a great amount, and I have a basic understanding of Scots Gàidhlig onomastics. I absolutely detest txtspk and 1337, especially when they are used in verbal conversations. Context fail.
Culture: Russian and German.
Status: Married to a most wonderful creature who makes my daily existence a grand adventure, the lovely Cygnoir.
Profession: Owner of Gamescape North in San Rafael, CA. Also a passionate aspiring historian, currently working on my doctorate. More on that here.
Education: Bachelor of Arts in History (High Hons) from UC Berkeley, Master of Science in Scottish History (Dist.) from University of Edinburgh. Currently a candidate for the PhD in Scottish History at University of St Andrews.
Politics: Cautiously Hopeful Party
Religion: Kitten.
Couture: Some say overdressed; I say respectably prepared. I love high-quality menswear: bespoke suits, contrasting textures and patterns, and bold layers. I think it's very difficult for one to be overdressed, but underdressing is a regularly accepted fact these days, which is disappointing to me.
Hobbies: Reading, writing, historical research, boxing, gaming, painting miniatures, geocaching, gardening, worrying.
Heroes: Howard Zinn, Richard Winters, Kate Beaton, Roger Sterling, Max Kellerman, Daniel Day-Lewis, Christina Hendricks, Tom Waits, Andrew Wood, delve, Vercingetorix, Green Arrow, Jennifer Charles, Winfield Scott Hancock, Onnie Goldberg Bernstein, Johnny Jewel, Lord George Murray, Bruce Dickinson, Alison Shaw, Victor Minasian, Sabine Ki Sornstein, and Cygnoir.
Soundtrack: My very diverse musical interests can be viewed and tracked in real time on Last.FM, which states that my most-played artists are In Gowan Ring, Arab Strap, Chromatics, Mark Lanegan, Tom Waits, and Cranes. I also love Iron Maiden and Paul Desmond.
Favorite word: Integritous. Which doesn't exist. It should, though, shouldn't it?
Favorite typeface: Humanist 531. Also, anything designed by Laura Worthington.
Favorite color: Duh.
Favorite flowers: Star jasmine, clematis, osteospermum, curly rush, lime thyme, Phygelius recta, globe thistle, fiddlehead fern.
Favorite time of day: The gloaming.
Favorite season: Autumn.
Favorite beverages: Assam and keemun black teas, Andersen Valley Pinot Noirs, Speyside and Islay whiskys, fresh mango juice.
Favorite flavors: Cinnamon, chocolate, and cardamon together. I also lust after tikka masala, madras, and tamarind curries.
Favorite scents: Moist earth, vanilla, cloves, bread, amber, petrichor, cade, woodsmoke, and books.
Favorite topography: Moist and mossy rolling hills, overgrown forests, wide expanses of moor and fern.
Obsessions: Books, hats, scarves, ties, fountain pens, teas, pigment powders, hand cremes, urban exploration and urban decay, journals and notebooks not-yet-written-in.
Aversions: obliviousness, enclosed spaces, boredom, liars, cancer, Tori Amos, old-lady musk, Burning Man, ignorance, gangster rap, posturing, homophobia, racism, classism, cheaters, organized religion, Yelp, lack of manners, my bad, Windows, entitlement, most Virgos/Aries/Leos, vomiting, landfill, patriotism, nationalism, Marmite, Rockabilly chicks, manipulation, They Might Be Giants, and Orcus: Lord of Undeath.